Archive for Art technique

Fire on Top, An Illumination by Sybil Archibald
22k gold leaf and handmade paints on animal skin parchment
Over at Abbey of the Arts, Christine is holding a poetry party. She writes:
I invite you this week to write a poem about your own invitation to enter the refiner's fire – in alchemy lead is transformed into gold through heat and this becomes a metaphor for the human soul. What is the lead within you ready to be transformed into something treasured?
I am not normally a poet but this topic is near and dear to my heart, so I was inspired.
Over the years, I've made a deep study of early alchemists and their influence on medieval art techniques. The process of manuscript illumination is deeply sacred and transformative. My early embrace of these techniques allowed me to see that making art, regardless of medium, is a spiritual practice. Though I use many different mediums now, within me the spiritual crack opened by illumination continues to expand with Light.
For more on the technique and meaning of illumination, see my posts Finding the Sacred in Contemporary Art and Lapis & Gold.
The Artist Illuminated

Parchment
I trace the lines of God
on this dead skin-
a calf once, a self
prepared to be reborn.

Gilding
The red clay of Adam
laying lifeless upon skin,
desiring yet empty.

Deep within
I find it-
Divine breath,
hot, filled with life.

Exhaling,
I wake the glue which binds
body to soul,
giving form to life.

The once rough clay
is now perfected
by a blanket of gold.

With a flash the gilded clay rises up,
a wild horse running free,
as the newly golden surface
reflects living Light
back to Its
Source

Making Paint
I crush azure blue from a stone like so many grapes
All the while
emptying
my frail body of care,
surrendering concern.

Bleeding madder root in a bubbling pot,
heating iron over a fire to red.
Finding within
this lifeless squid,
its precious gift:
warm and brown
sepia stains my palms.

The Artist
Thus paint is made,
and my own skin emptied,
a self once,
prepared to be reborn.

Here in this moment I stand
an emptied vessel.

I dip my brush
and disappear.

I am the the glove
for the fiery blue Hand of the Artist
which destroys as it creates.

I have been consumed
In tender, burning flame
a shell of my former self
all ashes, all dust

which I collect and slowly
begin to grind into paint.

-Sybil Archibald
Clays are extraordinary, layered, crystal structures which have, built into them, what amounts almost to an innate tendency to evolve…Clay has plans.
-Lyall Watson, from An Introduction to Clay Colloid Chemistry
I started as an artist at the age of 6 in clay. The altars I built from clay I dug directly out of the earth are some of the most satisfying pieces of my career. There is an innate connection between God and earth. Clay is a meeting place, a doorway to Heaven.
I have been an avid gardener for years. I began to garden for the fragrance and color of flowers but now I garden for soil. It is easy to miss the Divine is the humble trappings of dirt. There is something about soil that is just afire with the light of God. It is the lowliest of things, we tread on it, ignore it, sweep it away, and yet it sustains us all. The soil pulses with life that we cannot or will not see. There is no more satisfying feeling than seeing what appears to be a barren, wormless plot of land transform into a teaming mecca of life.
Working with clay gives me the same satisfaction. Clay itself is very dense, like the material word itself. It takes effort to move it and to see in it the true reflection of the Divine. And yet it is responsive. There is something in clay that wants to grow and transform and which responds to that same impulse within the artist. Clay is a partner in the creative act, not a submissive servant.
In the biblical story of the creation of man, God chooses to blow the breath of life into clay to create Adam. I have discussed this from the perspective of the gilder who must use breath, but the clay's perspective is just as interesting.
That God chose clay to receive his direct kiss, should illuminate the central importance of Earth. By gardening or working with clay we engage the Earth. And if we empty ourselves and enter fully into the present moment something amazing happens. The artist becomes the physical vessel for Divine creative energy, holding it, that it may be translated into, fused with matter. The particular way in which an artist engages matter allows for greater concentrations of Macrocosmic energy to enter the world.
But that is not all. All matter, to a greater or lesser degree has consciousness of its Source. Clay is like a sponge that actively seeks to draw in Divine fecund energy. It and Earth itself has its own active spirituality and deep connection to God.
Contemporary theologian Thomas Berry argues this persuasively.
There is a spiritual capacity in carbon as there is a carbon component functioning in our highest spiritual experience. If some scientists consider that all this is merely a material process, then what they call matter, I call mind, soul, spirit, or consciousness. Possibly it is a question of terminology, since scientists too on occasion use terms that express awe and mystery. Most often, perhaps, they use the expression that some of the natural forms they encounter seem to be "telling them something".- Thomas Berry, The Great Work: Our Way into the Future, Page: 25
He also says:
"Gardening is an active participation in the deepest mysteries of the universe."
Medieval theologian St. Thomas Aquinas wrote that
All things love God. All things are united according to friendship to each other and to God.
And mystics such as Teilhard de Chardin and Hildegard of Bingen see it everywhere:
Crimson gleams of Matter, gliding imperceptibly into the
gold of Spirit, ultimately to become transformed into the
incandescence of a universe that is person- and through all of this there blows, animating it and spreading over it a fragrant balm, a zephyr of union- and of the Feminine.

The diaphany of the Divine at the heart of a glowing universe, as I have experienced it through contact with the earth- the divine radiating from depths of blazing matter.
-Teilhard de Chardin
Hildegard of Bingen says:
God's Word is in all creation, visible and invisible. The WORD is living, being, spirit, all verdant greening, all creativity. All creation is awakened, called, by the resounding melody, God's invocation of the WORD. This WORD manifests in every creature. Now this is how the spirit is in the flesh–the WORD is indivisible from God.
So let us not discount the importance of our physicality and out Earth in a reckless attempt to find a higher spirituality. Spirit is not up there, it here in every atom and molecule, every glowing and vibrant speck of dust. Let us be present and embrace the bounty God has offered us by entering into the unceasing flow of Divine Creativity on Earth. By embracing the Earth we embrace the Divine.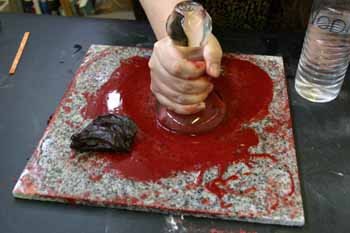 I just updated the website for my book Lapis & Gold: Unlocking the Secrets of Medieval Painters and Illuminators. It's an in depth look into medieval art technique and sacred and spiritual art practices. I hope it will help contemporary artists reclaim the power we've lost by relying on industrialized art supplies that pollute our environment and lack longevity. I also hope it will add to the dialogue about art as a spiritual practice. My writing partner, Karen Gorst, is a technical genius. There is so much in this book that has never been put to paper before. I'm really excited about it.
I first became interested in illumination during college when I studied at the School of the Sacred Arts at the same time as I was immersed in studying medieval mystics at NYU. It seemed like the perfect art form to me, a marriage of the mystical and material. It is through illumination that I first began to understand the sacred and healing nature of making art. For many years, I strictly adhered to illumination technique:

The Binding of Isaac (Click image for larger view)
Now I just incorporate the techniques. I still make my own art supplies where I can but not always and I often work on paper instead of parchment. My work, however, is still true to the core values of the illumination technique: trust in process, trust in materials, and connection to the Divine. As Above, so below; the artist imitates the Divine Artist.
I haven't written much about my book here because I've been on an unplanned, life-enforced break. It had to be set it aside to help my husband close down his business in 2006 and then I had my heart episode/awakening and then our big move which caused my life to unravel into the chaos from which new things are built. I have, however, talked about many of the same themes of spirituality and have touched on technique in a few posts (see Finding the Sacred in Contemporary Art).
I hope Lapis & Gold will appeal to a wide range of people. It has information for artists, art historians, spiritual seekers, conservators, medievalists and students of religion. Each chapter has technical information, ancient recipes tested and refined for contemporary use, history, and spirituality. (Click the links for chapter table of contents).
Supports: Paper and Parchment
Ink
Calligraphy
Gilding
Pigments and Pigment Making
The Pigment Almanac (A reference guide to pigments)
Paintmaking
Projects
A list of appendices
Here a sample of the types of information you will find in different chapters: the pigment chapter has detailed recipes, lightfastness & pigment interaction testing, and an in depth look at the alchemists who developed these recipes, their spiritual belief systems and how those believes manifest as you actually make each recipe; the calligraphy chapter has, among other things, directions for 3 writing styles, calligraphy as meditation, letter mysticism is the Christian, Judaic & Islamic traditions and the analysis of a medieval page to understand layout.
So now finally the time is right to begin again on the journey that is my book. The writing in finished. Lapis & Gold has ripened* on the vine & is waiting for a hungry publisher to come and pluck it. Any advice, contacts, or help you could offer would be greatly appreciated!
Thank you and bless you! Sybil
* Upon rereading this, I was amused to find that I had unconsciously used the same metaphor as medieval alchemists who sometimes referred to the metals in their chemical reactions as ripening.